Organization Name: Business & Professional Women London, Ontario

Business & Professional Women London, Ontario (BPW London) develops the professional, business and leadership potential of women at all levels through advocacy, mentoring, networking, skill building and economic empowerment programs and projects around the world.
What are three things that you want people to know about how you or your organization creates change in our community?
BPW London is a local club with connections to provincial, national and international women.  Members have opportunities to connect among themselves and with women around the world.
Members of the club are involved in local organizations that deal in women's issues: Farmtown Canada, Courage for Freedom and Anti-Human Trafficking Committee (Human Trafficking organizations), My Sister's Place, London Coffee House, and Anova to name some of the recent connections and support given.
If someone is looking for an organization that will allow them to make a difference in the lives of women either locally or in another country, BPW London can give that person the opportunity to do it with the help of other women.
Do you have a story you would like to share?
Our 2018-2019 Speaker Series monthly dinners focused on how violence affects the lives of women and children with featured speakers from Days for Girls in Lakeside Mexico, Anova on the 16 Days of Activism to End Gender-Based Violence, the London initiative of the UN Safe Cities program, and Living With Happiness organization out of Rwanda. The photo below includes the co-founders of Living With Happiness and two BPW London members. All were very interesting and informative speakers.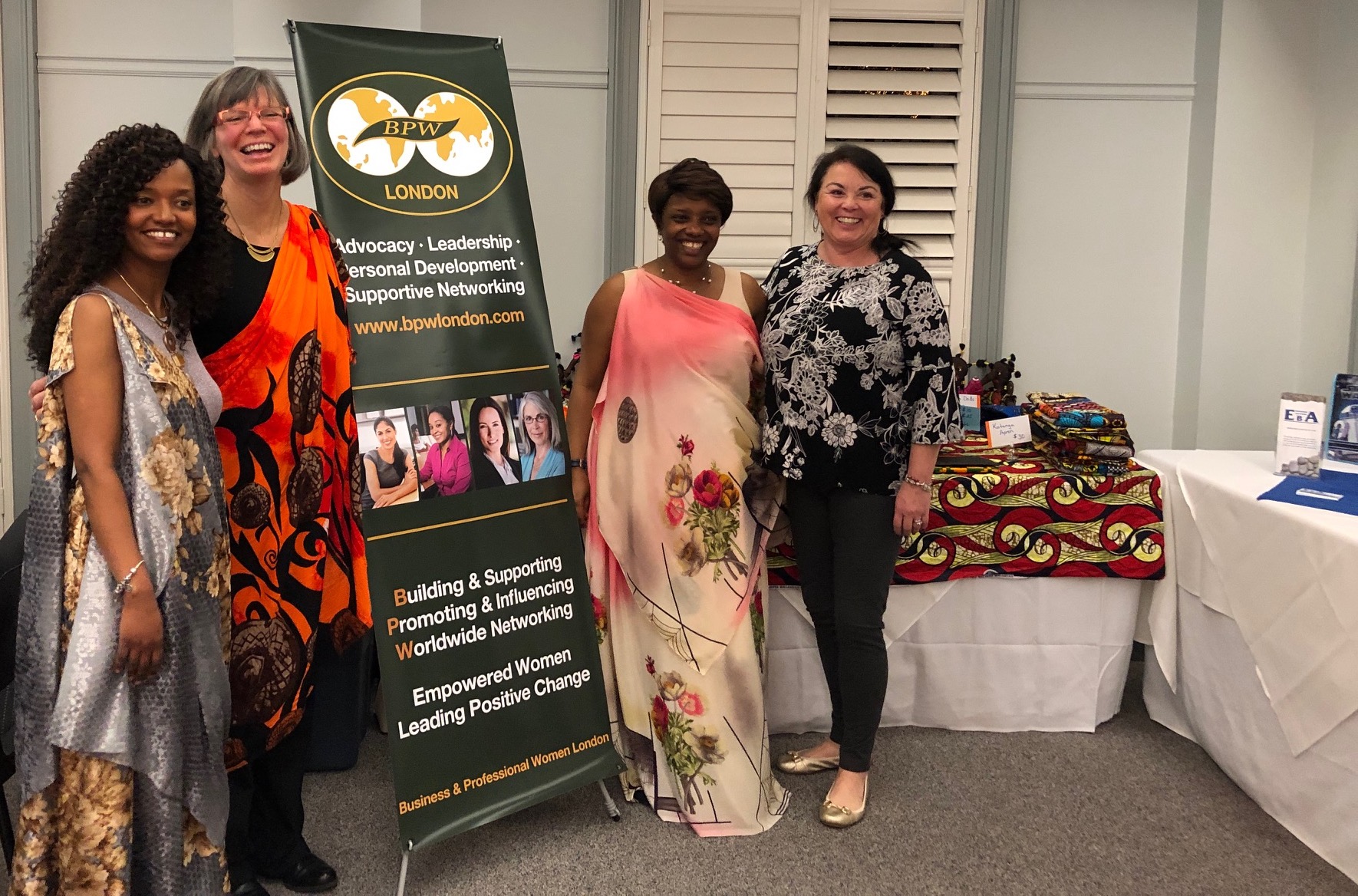 Why are you part of Pillar Nonprofit Network?
We have members who are connected to Pillar and we use their services to let people know about our monthly dinners and social events.  We also share the learning and connecting opportunities available through Pillar with our membership.
Learn more about BPW London at www.bpwlondon.com or connect on Facebook and Twitter.
---
Member Moments highlights our members, sharing stories about what's going on in our community. 
Does your organization want to be included? Email membership@pillarnonprofit.ca.
News Topic:
Member Moments
Pillar Members