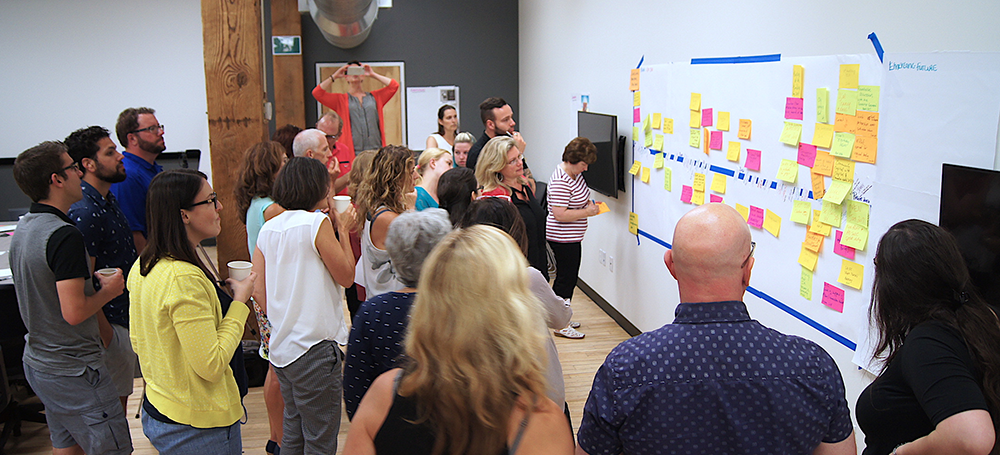 In June 2001, a Community Volunteer Summit was held in the London area. With participation from major stakeholders in the nonprofit and public sectors, the summit identified the need to build partnerships, to ensure the nonprofit sector welcomes all members of society and to enhance the credibility and accountability of the nonprofit sector. It also set the goals of expanding on the volunteer bureau concept using user-friendly technology as well as developing a "Chamber of Charities."
As a result, in July 2001, Pillar was created through a partnership between Human Resources Development Canada and the United Way of London & Middlesex.

Timeline
June 2001: Community Volunteer Summit held
July 2001: Pillar - Voluntary Sector Network is created
August 2002: Pillar – Voluntary Sector Network opens office in London Public Library's Central Branch
April 2003: Official launch of our first website
July 2003: Incorporation as a nonprofit organization
May 2004: Official Canadian charity status
May 2004: Pillar hosts the first London Leadership Conference
June 2005: Renamed "Pillar Nonprofit Network"
January 2008: Official launch of redesigned website - www.pillarnonprofit.ca
April 2011: Celebration of 10th Anniversary
January 2014: New website launches
September 29, 2014: Purchased 201 King St. for Social Innovation Shared Space

The Origin of Pillar's Name
Original name in 2001: Pillar - Voluntary Sector Network
Changed in 2005 to: Pillar Nonprofit Network
Willy Van Klooster, founding Board Chair, reflecting on a case for Pillar:
"We dream of that day when every person in our community will know an energized London is created and supported equally by 3 pillars. Without a strong, stable and reliable public sector, we cannot be a community. Without an innovative, responsive and vibrant private sector, we cannot be a community. Without a caring, creative and compassionate voluntary sector, we cannot be a community. Without any of these 3 pillars, the community collapses. When these 3 pillars work in collaboration, harmony and mutual respect, the sky will be the limit.
Our primary focus is the middle pillar. We will make our dream a reality by increasing the visibility, credibility, capacity and professionalism of the voluntary sector. We know our sector - the middle pillar - is essential to a civic and just society. Our mission is to make every aspect and sub-sector of this pillar effective, vital and recognized."